Time to Get Serious
---
Yes, it was definitely time for me to get serious about my skin.  At age 65, my skin was not going to get any younger and I wanted to look as good as I could.  I had been researching skincare for several years now and learned some of the ways I can keep my skin looking younger.  I definitely wanted to improve my skin naturally and I've been researching collagen supplements.
Here are some tips to help protect your skin and keep your skin young-looking.
1.  Avoid sun damage by wearing sunscreen when outside and avoiding long periods in full sun.  Use sunscreen also if you are in front of a screen all day like myself to avoid damage from rays produced by the screens.
2.  Don't smoke.  This is easy for me since I have never smoked.
3.  Avoid alcohol.  I rarely drink alcohol and only occasionally a glass of wine.
4.  Keep skin hydrated with moisturizers.
5.  Drink plenty of water, at least 8-10 glasses each day.
6.  Clean skin and remove makeup every evening, use a moisturizer afterward.
7.  Massage with moisturizer daily and rub it in using an upward motion, as though you were pushing your skin up toward your forehead.
8.  Eat a clean, natural diet with plenty of veggies and fruits that contain antioxidants.  Eat plenty of salmon, pumpkin seeds, lemons, green tea, honey, almonds, olive oil, broccoli, apple cider vinegar, yogurt.
9  Avoid negative facial expressions such as frowning or squinting.  Keep up with the smiles and laughter.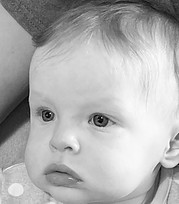 I will never have skin like a baby again.  Here's an image of my little granddaughter, Hope.  Her skin is perfect now but over her lifetime, it too will sustain damage from sun, wind, and aging unless she is careful.
Hopefully, my daughter will teach her how to protect her skin from damage while living in the tropical rain forests of Papua New Guinea as a missionary baby.