Time to Get Serious
---
Yes, it was definitely time for me to get serious about my skin.  At age 65, my skin was not going to get any younger and I wanted to look as good as I could.  I had been researching skincare for several years now and learned some of the ways I can keep my skin looking younger.  I definitely wanted to improve my skin naturally and I've been researching collagen supplements.
Here are some tips to help protect your skin and keep your skin young-looking.
1.  Avoid sun damage by wearing sunscreen when outside and avoiding long periods in full sun.  Use sunscreen also if you are in front of a screen all day like myself to avoid damage from rays produced by the screens.
2.  Don't smoke.  This is easy for me since I have never smoked.
3.  Avoid alcohol.  I rarely drink alcohol and only occasionally a glass of wine.
4.  Keep skin hydrated with moisturizers.
5.  Drink plenty of water, at least 8-10 glasses each day.
6.  Clean skin and remove makeup every evening, use a moisturizer afterward.
7.  Massage with moisturizer daily and rub it in using an upward motion, as though you were pushing your skin up toward your forehead.
8.  Eat a clean, natural diet with plenty of veggies and fruits that contain antioxidants.  Eat plenty of salmon, pumpkin seeds, lemons, green tea, honey, almonds, olive oil, broccoli, apple cider vinegar, yogurt.
9  Avoid negative facial expressions such as frowning or squinting.  Keep up with the smiles and laughter.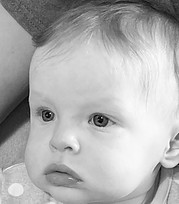 I will never have skin like a baby again.  Here's an image of my little granddaughter, Hope.  Her skin is perfect now but over her lifetime, it too will sustain damage from sun, wind, and aging unless she is careful.
Hopefully, my daughter will teach her how to protect her skin from damage while living in the tropical rain forests of Papua New Guinea as a missionary baby.
Wrinkle Cream
I've been using a special product from Young Living for several years now.  I love the way my skin feels when I use it regularly.   It is Boswellia Wrinkle Cream and I use it every day.  Young Living touts its use to prevent wrinkles.
Used daily, Boswellia Wrinkle Creme will minimize and PREVENT wrinkles on the face and neck.
Contains the Essential Oils of Frankincense, Sandalwood, Myrrh, Geranium, and Ylang ylang.
A product made by Young Living, that meets Young Living exceptionally high-quality standards.
My Most Recent Skin Care Discovery
This year, I have found another product I am using daily to help keep my skin looking younger.  It is the "Dermal Repair Complex & Skin Vitamins Supplement Program" by Beverly Hills M.D. They tout this skincare product as follows:
VEGAN SKIN DETOX PROGRAM: Includes 2 different daily supplements – a capsule and soft gel to ensure potency, stability, and bioavailability. The ceramide capsules include finely selected water-soluble vitamins, minerals, and antioxidants while the soft gel contains lipid-rich antioxidants, berry oils, and plant ceramides. By keeping the water and fat-soluble ingredients separate, product stability and bioavailability is superior.

SUSTAINABLY FORMULATED: 100% vegan, non-GMO & gluten-free. Made with the highest quality, purity & cruelty-free standards.

This product contains PLANT-BASED COLLAGEN SUPPLEMENTS: Packed with skin essential vitamins, minerals, plant-based antioxidants, omega fatty acids, and certified organic botanical ingredients. Purifies, protects, renews and strengthens the skin ultimately revealing a naturally smooth, firm and luminous complexion from the inside out.
After 5 weeks of using these supplements, I've noticed my skill is smoother and has a better glow and my enlarged pores are looking better.
Sunscreen
Here's the sunscreen I use, also by Beverly Hills MD.  Beverly Hills Skincare Daily Age Revolution SPF 15 is a powerful sunscreen that helps prevent premature aging. It's unique formula hydrates skin to plump away lines and wrinkles and boosts collagen for a firmer, lifted appearance. Daily Age Revolution's advanced formula works to actively diminish the signs of skin aging.
Getting Rid of the "Crepe" look.
Another product I am going to try is also by Beverly Hills MD.  It is the Beverly Hills Crepe Correcting Body Complex.  I've noticed that crepe effect on my legs sometimes when they are dry, so this product will work to correct that.  I've provided some links to other products that are good also.
I know most of these products are not inexpensive, but I love the way they make my skin feel.  It feels so soft and since using the Dermal Repair Complex pills daily, I've noticed a new glow to my face.    I've decided that I am definitely worth it to use products that make my skin look and feel better.
Summary
We can protect our skin by taking certain precautions and there are some products that can help us look younger as we age in years.  We do not need to neglect our skin, we can keep it from sun damage and also keep it moisturized and supple.  Even massage can help.
Comments
I love to receive comments and questions, you can leave yours below.  Also please share this post with your friends who are also interested in anti-aging products and tips.
NOTE: This post contains affiliate links, which, if clicked and a product purchased, I receive a small commission (with no increase in cost to you).