My Progress Continues
---
This is my progress since I started doing intermittent fasting and keto at the end of November, 2022. I should definitely have lost at least 8 pounds by the end of the week for the month of March. My BMI has gone down several poingts since I started. If I can keep it up I will be losing 72 more pounds by the end of the year, making 113 pounds total since Dec 1, 2022. So I will be within 12 pounds of my goal weight going into 2024. So I should be at goal by next summer so I can travel to see my daughter and her family on the mission field. I'm also counting on reversing my type 2 diabetes and being off my meds long before then and up out of this wheelchair and walking again. Looking forward to walking our dog, Bo, and walking with Mel – eventually even playing pickleball with him. (wouldn't that be fun)!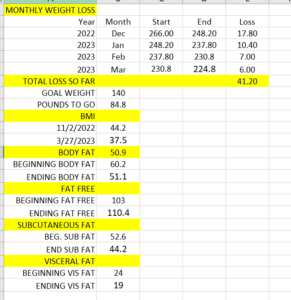 I'm reading where many have gotten rid of their arthritis and fibromyalgia and back pain doing what I'm doing. Also, many who have gotten off lots of meds for diabetes and blood pressure too.
Just thinking I'm doing this all because several years ago I read Dr. Jason Fung's fasting book.  He and his website, videos and groups have inspired me totally and continue to each day.  Since then I've purchased and read two other of his books.
Anyone can purchase Dr. Fung's books on Amazon and learn what I have and be motivated also.
Comments
I love to get questions and comments, please leave yours below