My Progress
---
A lot has happened since my last update in March.
I was losing some weight every month except in May but doing ok.  I had actually got down to 204.  But then a setback and I gained back to 220.
In August I began some physical therapy 3x a week.  The therapy is very hard and I'm sore after it and at first the soreness created lots of additional pain.  I couldn't move easily, I couldn't get comfortable to sleep at night and I'm a stress and comfort eater.  I started ending my fasts early, I began to get hungry and snack on various things.  Then I even began eating cookies and candy again – all things I thought I had conquered before.  So of course I began to gain back my weight.
You can see the changes in my screenshot of my spreadsheet below.
As of today I weigh 216.6.  I'm trying to get back on track with my 24 hour plus fasts, no snacking, eating keto when I eat.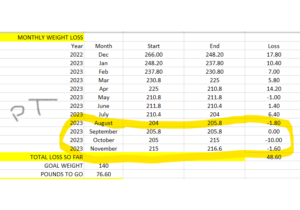 Thanksgiving was a big eating day and we traveled to my stepdaughters home, eating out and I splurged and ended up with  a big tummy upset.  I'm trying to get over that right now and adding probiotics to my day.  Working on a 24 hour fast presently.  I hope I make it this time.  I'll keep this blog updated hopefully more often.
I welcome comments and questions, leave yours below.