Keto Asian Salad
---
My name is Shirley Dawson, and I'm writing this guest post for Jasmine, the author/creator of the AsianFruitWorld.com blog site.
I have been a type 2 diabetic for years, beginning my treatment with metformin tablets and then eventually requiring insulin injections.  I have learned that I can control my blood glucose levels to a great extent with my diet.  As part of my changing WOE (way of eating), I've turned to whole, less processed foods.  I shop around the edges of the supermarket in the produce and meat areas.  I enjoy using healthy, even organic produce in my meal preparation. I tend to eat and love great salads.  In addition, I try to eat low-carb to reduce the carb effect on my body's blood glucose levels.
During 2016 I ate a "whole30" style diet and lost 30 pounds.  I'm continuing eating low-carb during 2017 and I'm losing even more weight.  I can happily eat a salad every day and I'm even creating my own salad cookbook "Salads to Live For" which I hope to publish some day.
Creating salads are fun for me and I research salad recipes a lot and come up with my own versions that I create in my own style.  I like to simplify my recipes by using a few pre-made, or chopped items to make the preparation go quicker.  I also choose the lowest carb version of ingredients I can find that will work.
One salad I recently made was an Asian one which I converted to be keto (very low carb).  Thus, the name "Keto Asian Salad".
My bowl of "Keto Asian Salad" accompanied my meal of baked salmon and pan grilled shrimp.  I also created a special salad dressing for the salad.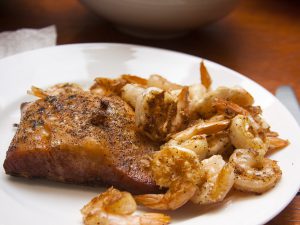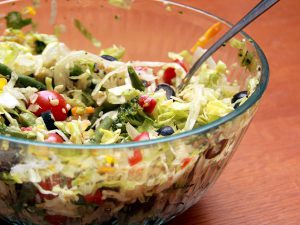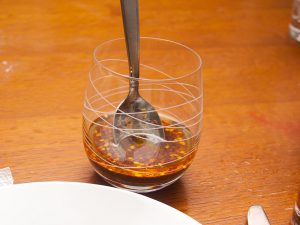 Following is my "Keto Asian Salad" Recipe
Salad Ingredients:
3-4 cups shredded lettuce (I use the bags of pre-shredded mix)
2 cups cauliflower rice (I use the frozen riced cauliflower bags)
1 cup cut green beans (frozen or from a can – drained)
1/2 cup cherry tomatoes, halved
Small can of sliced black olives
Cilantro, mint leaves and slivered almonds or walnuts for garnish
Handful of fresh blueberries (optional)
Salad Preparation:
Layer the ingredients into a salad bowl in this order:
Lettuce
Cauliflower rice
Green beans
Tomatoes
Cilantro/Mint
Black olives
Sprinkle slivered almonds or chopped walnuts on top.
A handful of blueberries (optional)
Drizzle the dressing over the salad right before serving.
Dressing ingredients:
3 Tbs extra-virgin olive oil
2 Tbs. soy sauce
1 Tbs. fish sauce
1 Tbs. brown sugar (I use the stevia brown sugar)
3 Tbs. lime juice (I tend to use the squeeze bottles to save time)
1 Tbs. minced red pepper (sweet or hot)
Dressing Prep:
Create your dressing in a medium size bowl, mix together the following:
Olive oil
Soy sauce
Fish sauce,
Brown sugar substitute
Lime juice
Red pepper.
Mix or blend and taste it to see if you like it.
Chill until time to serve.
Shrimp Ingredients:
1/2 pound shrimp, peeled and deveined (I use the frozen kind)
pinch of coarse salt
Shrimp prep:
Heat 3Tbs. oil in a large skillet on medium.
Add the thawed shrimp
Season with salt and pepper
Sear each side for  1.5 – 2 minutes.
Set aside to serve on the plate with blackened salmon filets.
Makes 2-3 bowls.
Serve with baked salmon (I use the frozen blackened kind).
Nutritional Information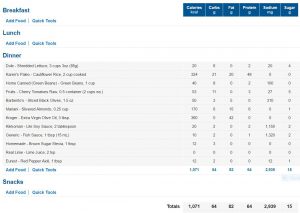 Divide the nutritional totals by 2 or 3 depending on the servings you have.
Visit My Website
You can visit my "Growing Old with Diabetes" blog site to learn more about my journey with type 2 diabetes and my recent attempts to use LCHF (low carb, high fat) eating along with IF (intermittent fasting) to cure my diabetes.