It's all about Food
---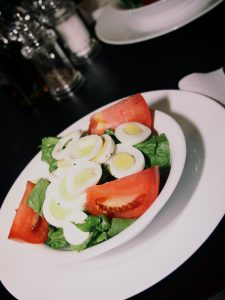 Well, its been a while since I've blogged my journey.  As I continue eating the "whole30" way, and researching this way of eating (WOE), I am more and more in favor of this WOE.
I've managed to keep to my 26 pound weight loss (gaining back around 4 pounds from my high of 30 lost), even during the stress of selling my home and moving to a new home in a new town.  Although the stress of living out of boxes and not having a functional kitchen has stagnated my progress for weeks at a time, I'm still determined to stick with it because of the many other benefits of eating this way.
Why do I want to stick with this plan?
I'm finding that when I cheat too much or fall off the wagon and begin eating fast food and more processed food, that my pain and swelling increases dramatically.  I can cheat just a little with no major problems, but too much wheat, sugar, soy, etc.,  and my body starts rebelling.  My blood glucose rises and my joints and muscles begin to ache.  Once again, I find I cannot sleep at night because of the discomfort.  A few days of pain and I'm very willing to go back to eating whole and unprocessed foods.
My diabetes doc has been extremely happy with me also; especially for losing 30 pounds the last time I weighed in his office and he has lowered my insulin doses twice to help me avoid lows (lol! this seems so funny for me with my history of high BGLs).   My ultimate goal is to go completely off the insulin injections and I really believe I can do that if I persevere.