Fail and Binge – Yes I Do
---
I have been doing so well with my LCHF eating and Intermittent Fasting, and I love all the benefits and the way I feel when I'm doing things right.  But I do occasionally have some issues. I have the occasional binge eating fail. This is so disturbing to me when I do that and I feel awful afterward, both emotionally and physically.  My fibromyalgia pain returns, my hunger is out of control and my blood sugar tends to go way up because of what I eat.
This time, I had a real binge day yesterday.  I was really hungry the last couple of days and I cooked a hamburger meal with sweet potato fries, coleslaw, onions, tomatoes, baby spinach leaves and for dessert (this was so wrong!) I cut up strawberries and mixed them with blueberries, and served them with Cool Whip topping.  I ate my hamburgers with buns too – I usually don't but couldn't resist yesterday.  And last night I cut up the rest of the fruit and then ate several "sugar-free" cookies which still have carbs in them and are not good for me.  I ate some salmon dip with almond crackers too.  So I totally blew it yesterday.  Today, I'm getting back on track and fasting with water and coffee only.
Prednisone is the Pit!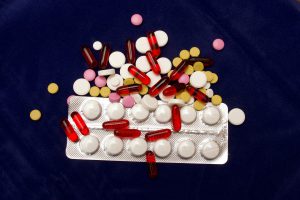 Now, my blood sugar has been way up for several days anyway because I had a sinus infection and the doc had given me antibiotics and prednisone to take.  I've been taking them and my appetite has been really out of control.  I ate chocolate and ice cream and nuts and extra meals (on days I normally eat only one meal) and I cheated on my fasting days.  Of course, I really enjoyed the binge eating but the BGL's of 400 and 500 were not good.  I had to inject lots of insulin to bring it down to even 300 and high 200's.
I refused to weigh myself the last couple of days but I still checked my BGL's and knew what was going on.  I hate when I fail like this and I know this time was really helped along by the prednisone and from overdoing my cycling and walking so that my pain returned full-fledged.  When I'm in pain, I get depressed and tend to eat more, especially when I can't sleep at night and wander the house bored and hurting.  I give in and eat usually when this happens.
I just checked my  BGL and it was 322 at 4:20 pm, so I injected even more insulin.  It was 590 this morning and I injected 50 units of Novalog. I just injected 50 more units.  Maybe it will come down a lot by tonight.  I still have a couple more days on the prednisone to get through.  Today is a fast day and I've been only drinking water and eating nothing.  I'm thinking about extending this fast until I finish the prednisone if I can. This afternoon, my pain is starting to get better and hopefully I'm able to sleep tonight.  My BGL should come down as soon as I'm off the prednisone in a couple of days.
The Sugar is killing me!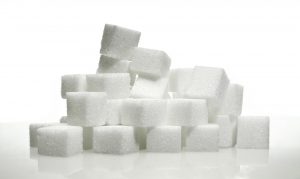 This had to have happened after I've just begun reading "The Case Against Sugar" by Gary Taubes.  My binge has reinforced my belief that sugar is very addictive and I really need to forgo it altogether. I'm praying hard that I can fast for the next couple of days and get past this binge and high blood glucose levels and the pain.
I've been searching and studying about getting past binges today and found these links:
I'm also continuing to read "The Case Against Sugar"
Staying Busy is Good
I know that staying busy helps to keep my mind off food, so today, after I could move around, I did some laundry and now I'm writing this blog post. Tonight my husband, Mel is taking me to see the "Wonder Woman" movie in 3D.  I'm going to enjoy that and pass on the popcorn he loves.  I'll drink water – even at the cost of a bottle of water at the theater.  I'm also hoping that by Friday I can go to the pool and workout gently and maybe get back in the kayak to float one of our lakes by Saturday evening.  I know that planning things to enjoy helps me get through depression and failure.  So I"m going to get right back up and working on my health again.  Luckily I purchased groceries yesterday morning and have things for Mel to eat during my fasting days.
Tomorrow morning I'm going to get up early (hopefully my pain will be under control by then) and began a big art project. I'm wanting to paint myself a great "Garden Art Pole".  Mine is going to be painted on an 8-foot pole with a solar powered light in the cap and on a 4×4 square cedar post.  I'll be using exterior paint and primer and then acrylics for my graphics and lettering and then sealing it.  I worked up a sort of template I'll be using when I do the painting and artwork.  The end results will be looking much looser than my photoshop template.  I decided to go with a Patriotic Theme since 4th of July will be coming up and I hope to finish it and have Mel install it by the 4th of July.
You can see some cool art poles here.
Here is my template image. (For all 4 sides)  Of course, each image will be my own revised and painted version.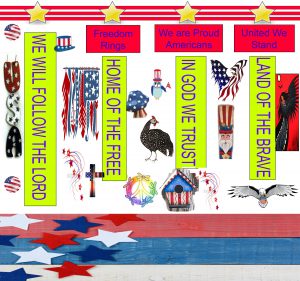 Comments
Thanks for looking at my site and coming to this page. I would love for you to leave any questions or comments below.  In addition, I'm open to new topics to research and comment on as they pertain to my own health and experience living with diabetes.  Please share your interests and questions in your comments.  I also love to hear others stories about how they handle their own diabetes issues.  I send out a monthly newsletter around the 1st of each month.  If you would like to receive that email newsletter, you can sign up here.