Weight loss Success
---
Since my last post, I've been doing so well.  After the 10 pound backsliding gain, I'm doing great with losing that.
This morning my scale sat at 261.2 pounds, very close to that 257 I had reached before the holidays.
I'm keeping up with my breathing exercises.  I'm doing them at least once a day.  I also actually went to the gym and did 35 minutes of weight training.  Just a little and a very light workout.  2 sets each on about 5 different weight machines and 5 minutes on the treadmill.  I was using the lowest or next to lowest weights on the machines.  The treadmill was sitting at #1 for resistance.  That tired me out and also made me very sore.  So sore I had a fibro flare-up that evening the next day.  I may try to go to the gym again on Saturday but I'm waiting till I get over the flare-up.
The main reason I'm wanting to do some weight training is to help with sagging skin.  I've been watching "My 600 lb life" and "Skintight" every night and the sagging skin after major weight loss is really worrying me.  I want to lose about 138 pounds by the end of 2017 with a final goal weight of 145.
With my bone marrow disorder making me a clotting risk and my previous stroke after surgery, I really do not want to have surgery to remove excess skin.
I'm aiming to go slow, at around six pounds a month.  I would like to be at 200 by the end of 2016. That's 83 pounds this year –  about 6.9 pounds a month. And then lose the rest during 2017.
My Eating
One thing I am doing is eating healthy.  I'm trying to eat lots of cool salads, fruits, no white bread, lots of vegetables and I'm adding things like hemp seeds, flax seeds, chia seeds, spirolina and dried cranberries to my salads and using olive oil as my dressing.
I'm also purchasing eggs from veggie fed hens and free range hens, drinking almond milk and V8 juice and water.  I'm using turkey bacon and very lean meats too.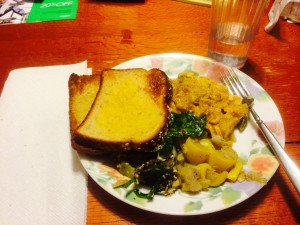 Tonight I'm having chicken with small potatoes, onion, seasonings and rice cooked in my crockpot with veggie broth. I have left over squash and onions to go with it.
Things to help with sagging skin after weight loss
I'm researching things to do to help with sagging skin.
Lose weight slowly
Weight train to keep muscles under your skin
Be patient even after weight loss and give your body at least 2 years to tighten the skin naturally.
Stay hydrated
Use creams (I'm using a special cream for pregnant money to avoid stretch marks).
Eat healthy and give your body the vitamins and minerals it needs.
The one thing I have going for me is that I never did get stretch marks during my pregnancy which is a good sign.  But I'm 62 years old which is not good.  I'm looking into essential oil therapy and I'll let you know how that goes.
Deep Breathing Technique
I wanted to share some videos of the deep breathing technique I'm using.  I only use the first exercise because of my physical problems.  I'm hoping to add more of the exercises as I lose weight and can move easier.  Here's some YouTube links you can use to learn the techniques from Greer Childers:
There are several other videos on Youtube you can check out.  Just look for Greer Childers, bodyflex, or oxycise.
Comments
Thanks for looking at my site and coming to this page. I would love for you to leave any questions or comments below.  In addition, I'm open to new topics to research and comment on as they pertain to my own health and experience living with diabetes.  Please share your interests and questions in your comments.  I also love to hear others stories about how they handle their own diabetes issues.
– Shirley