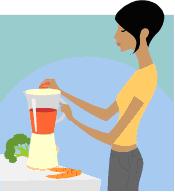 Drinking my Smoothie
---
I'm sitting here typing and enjoying my delicious  healthy smoothie.  Since I'm really concentrating on healing my fatty liver right now, I've been fixing myself smoothies with healthy ingredients.
I've purchased a Hamilton Beach, single serve smoothie blender (not expensive at all, under $20) to use when I make my smoothies.
Here is the recipe I used for this one.
Shirley's Apple/Banana Smoothie
1.  Placed about 6-7 ice cubes in the bottom of the single server blender.
2.  Used just under two scoups of Dr. Sandra Cabots Synd-X Slimming Protein Powder over the ice cubes.
3.  Put three spoonfuls of plain Greek yogurt over that.
4.  Sprinkled cinnamon generously over the  yogurt.
5.  Put organic applesauce (about four tablespoons over that.
6.  Break up a banana into some small pieces and put about 1/3 of them in the mixture.
7.  Poured some unsweetened almond milk into the blender, leaving some room at the top.
8.  Blended until ice was broken up and mixture smooth.
I must admit it tastes very good.
Comments
Thanks for looking at my site and coming to this page. I would love for you to leave any questions or comments below.  In addition, I'm open to new topics to research and comment on as they pertain to my own health and experience living with diabetes.  Please share your interests and questions in your comments.  I also love to hear others stories about how they handle their own diabetes issues.
– Shirley