How I Feel Like A Queen!
---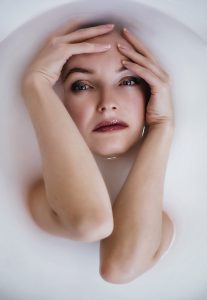 This week I realized that something I've been doing for over a year is really making a difference.  I turned 64 years of age on the 21st and I when i looked in the mirror, I realized that I really don't have wrinkles.  I used to think that I didn't show wrinkles because I was just too fat, but after losing 60 pounds and seeing my face thin down, I realized that I don't have wrinkles like some others my age.
Some things I have going for me is that I have never smoked, and ever since I was around 30, I've tried to NOT get sunburned.  Before that, I was really into sports and was burned several times during softball tournaments and long practices.  But then my Mom was diagnosed with basal cell carcinoma and after several major and disfiguring surgeries, she finally died of complications from that supposedly easy to treat skin cancer, I became pretty paranoid about no sunburns for me nor my daughter.  Her doctor said it was probably caused by sunburns in her youth.
For the last few years, I've been pretty much a homebody in this wheelchair.  However this past summer we did take up kayaking (which I loved) and so I do get out in the sun a little but I'm careful and always wear a hat and use sun cream.
My skin is now very soft, smooth and wrinkle-free.  And I credit it to a couple of products I've been using for over a year.
What Products Do I Use on my Skin?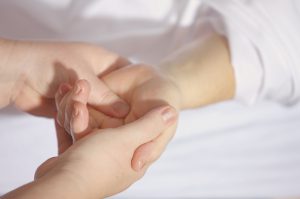 A couple of years ago, I became a Young Living distributor.  I use several of their essential oils in my diffuser and I started using their wrinkle cream about a year and a half ago.  Its called Boswellia Wrinkle Cream.  According to Young Living, the cream contains pure essential oils like Frankincense and Sandalwood that moisturize the skin while minimizing shine and reducing the appearance of fine lines.
The full list of ingredients is as follows:
Deoinized Water, Glycyeryl Stearate, Cetearyl Alcohol, Sodium Stearoyl Lactylate, Caprylic/Capric Triglycerides, Sweet Almond Extract (Prunus Amygdalus), Glycerin, Levulinic Acid, p-Anisic Acid, Olea Europaea (Olive) Fruit Oil, Stearic Acid, Pelargonium Graveolens Flower Oil, Cananga Odorata Flower Oil, Commiphora Myrrha Oil, Boswellia Carterii (Frankincense), Royal Hawaiian Sandalwood (Santalum paniculatum), Sandalwood Extract (Santalum Album), Phellodendron Amurense Bark Extract, Barley Extract (Hordeum Distichon), Sorbic Acid, Shea Butter, Sodium Hyaluronate, Allantoin, Xanthan Gum, Panthenol, Sodium PCA, Wolberry (Lycium Barbarum) Seed Oil, Grapeseed Extract, St. John's Wort Extract, Kelp Extract, Ginkgo Biloba Extract, Sodium Phytate, Tocopheryl Acetate, Retinyl Palmitate, Aloe Vera 200x (Aloe Barbadensis), Sodium Hydroxide, and Citric Acid.
†100% pure, therapeutic-grade essential
Contains corn, nut, and coconut/palm ingredients
I use it as directed, on my face and my neck.
I must say, I love how my face feels.  Its so smooth and soft and I've noticed I haven't developed any  lines on my face or my neck – at least that are noticeable.  I'm not a makeup person, so each morning after my shower, I simply use the wrinkle cream on my face and neck and that's it for the day for my face. I'm fortunate in that since menopause, I do not get acne anymore.  Ah, the joy of no estrogen!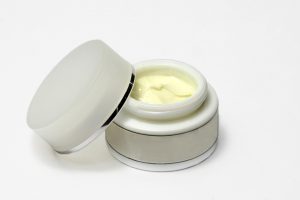 The other product I use on my skin is a body butter (Le Beaute Body Butter | Super Rich Natural Body Cream and Moisturizer | Rich in Anti-Oxidants, Vitamins and Pure Organic Shea Butter and Cocoa Butter | Provides 24 Hour Hydration for Skin)
.  I lucked upon this cream simply because my husband picked it out one day when I asked him to pick up some cream with shea and coconut.  It purports to help soothe and heal rough, dry skin.  I'm diabetic and need to keep from having breaks in my skin that can get infected.
I use that cream on my hands, arms, and legs every morning after my shower.  I'm a reader and remember reading about how queens and princesses in the stories were often given special baths and treatments to give them radiant, soft skin.  (baths of milk, cucumber, etc).  I must admit that when I feel my own skin now, it is unbelievably smooth and soft.  Sometimes I think I am treating myself like a storybook princess by using these products.  Not to mention, they have a nice smell also.
Lastly, I've recently (the last couple of months) began to do apple cider vinegar soaks in my tub.  This is for detox purposes and to help my skin.  Three times a week, I add 2-3 cups of apple cider vinegar (doesn't have to be the one with the mother since it is just for outside the body) to my bath water and soak for about 30 minutes.  I've noticed my feet and legs seem to feel better and are very smooth. I've also noticed that a few small skin tags on my trunk are going away.  I love it!
Here's How You can Pamper Yourself
This wrinkle cream can be purchased at Young Living's website.  Boswellia Wrinkle Cream by Young Living.  No, its not cheap, but does last a while.  If you sign up with Young Living, you get a much better price. Using my ID of 3556236 can help me bunches.  You can sign up as a member at the link below and get 24% off the retail price.
https://www.youngliving.com/vo/#/signup/new-start
Body Butter by le Beaute.  This is much more reasonable in price at Amazon.
You can also purchase apple cider vinegar in gallon containers for your bath use.  Walmart and some pharmacies carry this size.  Well, Amazon does too.  Here's a link to a gallon of Heinz Brand
Why not try this yourself for a while.  Ladies, you deserve to be pampered just a little each day.
BTW, I'll add a pic of me after I bathe and use my wrinkle cream in the morning.  I'm certainly not a beauty but feel so good then.
Comments
Thanks for looking at my site and coming to this page. I would love for you to leave any questions or comments below.  In addition, I'm open to new topics to research and comment on as they pertain to my own health and experience living with diabetes.  Please share your interests and questions in your comments.  I also love to hear others stories about how they handle their own diabetes issues.  I send out a monthly newsletter around the 1st of each month.  If you would like to receive that email newsletter, you can sign up here.