Ketogenic Eating 
---
For the past two weeks, I've been doing a lot of research on practicing a ketogenic lifestyle.  I've found out a lot about keto eating, its benefits and how to incorporate it into my intermittent fasting (IF) life.  This week I began preparing keto meals in a serious fashion.  I've been trying to eat more keto for while now but only recently figured out what I was doing wrong.
What Is Keto Eating?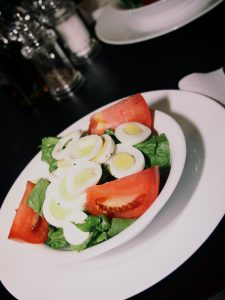 Keto is a really low-carb, high-fat diet.  It is similar to the Atkins, South Beach, and Paleo diets.  But it is even fewer carbs and more good fats.  This extreme reduction in carbohydrate intake will put your body into ketosis metabolically. When ketosis is happening, your body burns fat for its energy instead of carbs or glycogen from the liver.  Instead, of storing energy in the form of glycogen, the liver turns the fat into keytones, which supplies energy; your brain especially loves ketones.
There are several keto methods of eating.  I'm using what is called the Standard ketogenic diet (SKD) – a very low carb, moderate protein and high-fat diet.   My diet contains 75% fat, 20% protein and 5% carbs.  At least that's my goal.  The first day of eating true keto for my only 2 meals that day, I dropped 3 pounds overnight.  Boy, do I love those Whooshes!  I can handle many more days of those.  In my research on keto, I realized that I have not been eating enough good fat.  I'm finding out that one of the reasons I've been having trouble with fasting for more than 20 hours, is that I get too hungry to hold out.  I'm finding out that when I eat enough fat and the appropriate kind of fats; now I do not have the hunger I was battling with and losing to.  I feel this is going to make all the difference in my fasting and my weight loss. Continue reading "Learning How to Eat Ketogenically to Lose Weight" →