My Water Therapy – why I love it!
---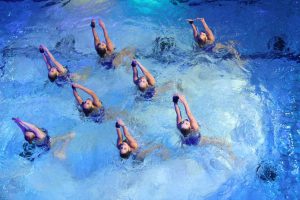 One of the habits that I have taken up to help with my diabetes and pain is water exercise.  I must say this is one of the few things that is always enjoyable that I do for my health.
Swimming and water exercise is often recommended for those who have trouble with joints and movement.  It can be cardio, muscle building, stretching/flexing and extremely relaxing.  The resistance of moving in water is over 40 times that of moving out of the water.  Also, the body weight is so much less while in the water, that one can perform movements and stretching that is impossible out of the pool.
I've read that you can burn 400-600 calories per hour exercising in the water and I know that at times I've dropped my BG levels many, many points during water aerobic classes (once I dropped 100 points from before a class to after the class).  For this reason, I always take a tube of "rescue" tabs with me just in case I have a low while I'm at the pool.  It has happened a few times and I was very glad I had those tablets to take.  One thing I noticed when I did have those lows, was my first symptom was not sweating, which is usually the beginning of my low symptoms.  You don't sweat in the water, so the shaking and sinking feeling in my tummy was the symptoms of my blood sugar levels dropping that I noticed.  No sweat is another benefit I enjoy from my pool exercising – I'm really not a fan of sweating.
Free from my Body Limits
The best thing about my time in the water is the great sense of freedom I have.  As soon as I step into the pool, my body feels so weightless; I can move my limbs and torso in so many ways that are impossible for me outside the pool. In addition, my pain is almost gone when I move around in the water.  I can't even describe how good it feels to not be in pain at last.  Sometimes I just wish I could hang onto the side of the pool and take a nap without pain in my hips and legs.
I have a personal routine to my exercise when I'm not participating in a water aerobic class.  I step into the pool, walking around a little and doing a few stretches with my "water tube".  I use the tube to help me balance and stand tall when walking back and forth across the pool (water walking).
Only in the water can I stand perfectly upright and those back and leg muscles and tendons finally get nicely stretched.  Then I begin doing my laps, which I do on my back with a backstroke.  On the back, because I have never perfected the breathing technique for swimming "free style" or front crawl.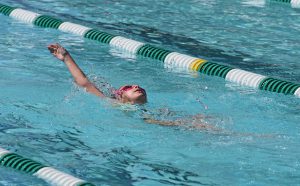 I always do 10 labs, taking time at each end of the pool to stretch my back, completing 20 specific power arm exercises at the deep end and doing 10 water squats each time I'm back at the 3′ mark. These water squats are wonderful for building my leg muscles and I've had docs tell me that squatting is one of the best exercises we can do.  I can really only do squats when I'm in the water, certainly not the really low ones, and I credit all my water squats with my success in building my upper thigh and buttock muscles back so I can now get up from my wheelchair or recliner much easier.
After my 10 laps, I will have finished 100 squats in the water and 1000 arm exercises with the resistance of my water gloves.  This usually takes about 40 minutes.  Then, I do about 15 minutes of water walking to strengthen and straighten my legs.  After that, I will go to the side of the pool and do several leg flexibility movements in sets of 10 or 20.  Finally, I will just play around by myself twisting and turning in the water, marching, doing jumping jacks, bicycling, and hopping around.  I finish up sitting in the hot tub and doing some final stretches before I hit the shower and go home.  This pretty much wears me out and takes about 1.5 hours to complete.
Water Exercise Equipment
I use swim gloves and I really love them and the extra resistance they give me when moving my arms in the water.  They are so good at building muscles in both my forearm and upper arms and helping with losing the "bat wings" under my upper arms.  I have used swim gloves for so many years now that I feel "naked" if I swim without them.
Using my swim gloves with the webbing between the fingers creates much more resistance for each movement of my arms in the water and also in my shoulders and chest.  The intensity of my workout is significantly increased when I wear my swim gloves.  I order a size medium in gloves.  I have created a Product Review of the gloves I use which you can read (under construction).
I also use a water tube in the pool.  I use it to help balance and stand tall when I do my water walking, as well as resistance when doing specific exercises.  It is easier for me to push the tube up and down underwater with my arms than using water bells.  They tend to hurt my fingers and wrists when pushing and pulling with them.  I also "ride" my tube when I do "bicycling" in the water. These tubes can be purchased during the summer in stores like Walmart or Target.  I use the larger in diameter ones.
I'm lucky that our recreation center provides tubes, bells, balls, and other water equipment, so I only have to bring my swim gloves and towel and rescue tabs.  I notice many other swimmers bring water goggles, swim fins and snorkels when they come to do their laps. I've thought about purchasing swim fins, but I'm going to do some research first.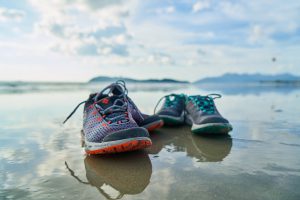 Oh, I shouldn't forget that I always wear water shoes so my feet do not get abraded against the bottom of the pool.  This is important for me as a diabetic.  I buy my swim
A Recent Experience
Yesterday, I was at the indoor pool after finishing my routine exercises and laps and was getting out of the pool into my wheelchair.  I park my wheelchair near the steps into the pool and leave my "rescue tablets" on the seat of my chair just in case.  A lady who had been doing laps in the lane next to me told me that she was surprised that I was in a wheelchair because she had noticed I was moving so well in the water.  I told her I loved the water and she said: "I can tell, you look very comfortable in the water".
She was so right, I feel completely FREE when I'm in the water and there is practically no pain when doing most of my exercises and movements.  I feel so much less weighty, my legs and back can move in so many stretches and movements that are totally impossible for me outside of the water.
I can't truly explain that wonderful sense of freedom I get in the water.  It makes me so happy.  However, I never realized that other people could notice that freedom from just watching me.
How often to exercise?
I have set a goal for myself of routinely going to the pool 3-4 times each week year-round.  I am so fortunate that I have access to an indoor pool that I can go to during the fall, winter, and spring when outdoor pools are closed.  At least 3-4 times each week I can enjoy the ability to move my body freely, without pain and disability. WHAT FREEDOM!
Comments
I love to get comments and answer your questions, please leave yours below – Shirley
NOTE: This post contains affiliate links, which, if clicked on and an item purchased, I receive a small commission with no extra cost to you.